WHY POLAND
For students from outside the European Union who would like to study in Poland this may well be the beginning of a fascinating adventure of discovering Europe. Being invited to study in Poland means that you are invited to the European Union, of which Poland is an active member state. We encourage you to discover the European Union, which offers not only varied and interesting cultures and the opportunities associated with strong, innovative economies, but it also provides the very best conditions for successful higher education studies in a challenging and friendly atmosphere. With top-quality, internationally recognised degrees, and highly appreciable infrastructures almost no other region in the world can set your career off to such a promising start!
Poland's university traditions are among the oldest in Europe. In 1364, King Casimir the Great established the Cracow Academy, known today as Jagiellonian University. Since the beginning of politicial transformation in 1989 our higher education system has been developing rapidly and Poland is fourth in Europe (after the United Kingdom, Germany and France) in terms of the number of people taking up higher education. The total student population at almost 400 university-level schools is over 1.1 million. Polish universities offer more than 800 courses in foreign languages as an integral part of the European Higher Education Area, where the level of tuition fees compares favourably with other EU countries. Poland plays an active part in the Bologna Process thanks to the introduction of a three-stage education and the European Credit Transfer System. Foreigners studying in Poland can easily continue their education elsewhere in the European Union. Foreign students coming to Poland can expect an attractive and diversified educational curricula which meets high European standards – they can study medicine, biotechnology and engineering, as well as art and business. We invite you to consider the great opportunities that Poland can offer. Come to the European Union. Start in Poland!
STRUCUTURE OF STUDIES IN POLAND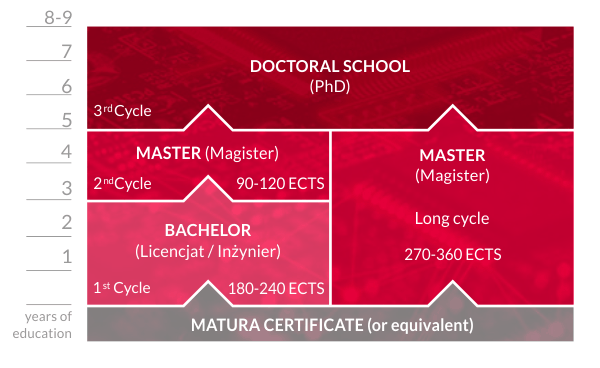 Higher education institutions run full-time and extramural. Poland conforms to the guidelines from the Bologna Process in European higher education. The Polish structure of studies has been successfully implemented together with the European Credit Transfer and Accumulation System (ECTS). The European standard in higher education makes it easier for students to obtain recognition of their qualifications in other countries.
Studies are conducted at the level of first-cycle studies, second-degree studies and long cycle studies. Studies can be conducted on the practical profile (more than half of the ECTS points are assigned to classes developing practical skills) or academic profile (more than half of the ECTS points are assigned to classes related to the scientific activity conducted at the University).
READY, STUDY, GO! POLAND
"Ready, Study, Go! Poland" campaign has been pursued by the Polish National Agency for Academic Exchange (NAWA) since 2017 (originally campaign was launched by the Ministry of Science and Higher Education in 2012) and aims at delivering the information about Poland as a prospective study and research destination to all candidates in the world. The campaign is managed by Polish National Agency for Academic Exchange (NAWA) and it is an official campaign promoting studies in Poland.
Visit Ready, Study, Go! Poland website
www.facebook.com/readystudygopoland
www.instagram.com/ready_study_go_poland/
Get to know more: