7 April 2022
Dean of the Faculty of Mechanical and Industrial Engineering Warsaw University of Technology, prof. Tomasz Chmielewski invites to the Symposium "Industry 4.0", which will take place on 9-10 May 2022 in the Auditorium of the Main Building of the Faculty of Mechanical and Industrial Engineering (Narbutta 85, 02-524 Warsaw).  Symposium "Industry 4.0" is a part of the project IPAE (Industry 4.0 in Production and Aeronautical Engineering) sponsored by NAWA – Polish National Agency for Academic Exchange .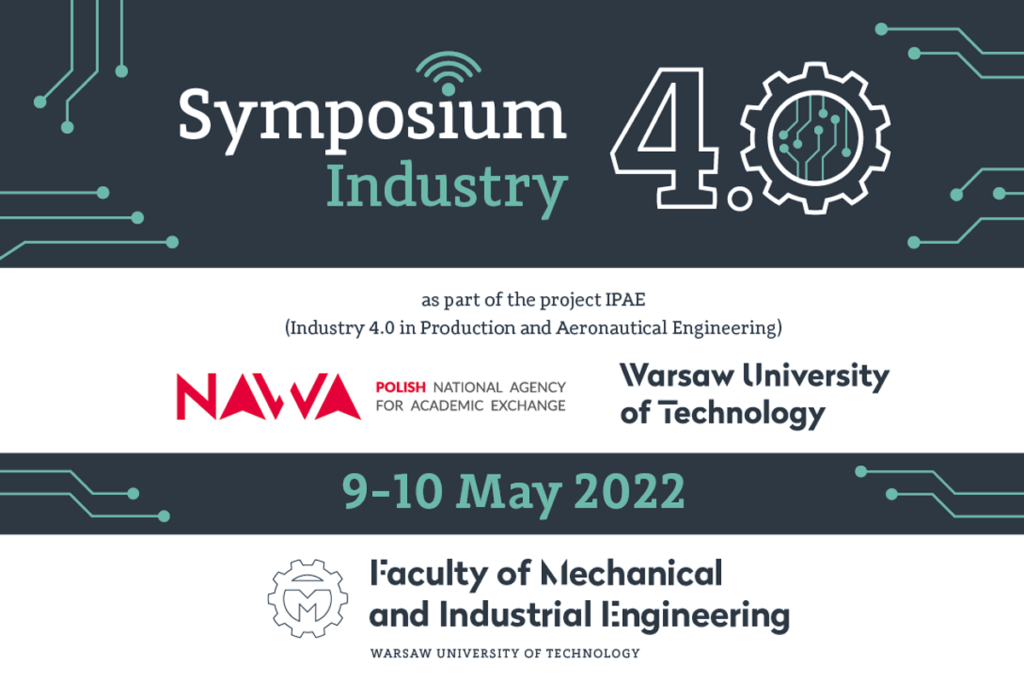 The IPAE project responds to the challenges of the Fourth Industrial Revolution resulting from the development of exponential technologies related to the concept of Internet of Things. Selection of priority problem areas in the project, i.e. production engineering and aeronautics, is dictated by their importance for the economy, the development of key areas of technology, and indirectly – also defence.
The Coordinator of IPAE project is Warsaw University of Technology, and among the participants are the following Universities:
UNIVERSITY OF TAMPERE, Finland

AUBURN UNIVERSITY, USA

GWANGJU INSTITUTE OF SCIENCE AND TECHNOLOGY, South Korea

GRIFFITH UNIVERSITY, Australia

ECOLE CENTRALE DE NANTES, France

NATIONAL TECHNICAL UNIVERSITY OF UKRAINE, Ukraine

POLITECNICO DI MILANO, Italy

UNIVERSIDAD POLITÉCNICA DE MADRID / CENTRO DE AUTOMATICA Y ROBOTICA, Spain

MUSASHI UNIVERSITY, Japan
The main objectives of symposium 'Industry 4.0' are:
guest lectures of distinguished speakers, representing leading universities,

propagation of knowledge regarding the latest trends in Industry 4.0 area,

ability to exchange experiences by participants of symposium and establishing contacts,

possibility of publishing in special issue Welding Technology Review journal.
Registration
We kindly encourage you to register for the Symposium Industry 4.0 Symposium Industry 4.0 link: https://lnkd.in/dh76dEKe Registration form link: https://lnkd.in/dUN9ZkYy