21 November 2023
The invention that can be used, among other things, in producing probiotics has received a patent from the Patent Office of the Republic of Poland. A team of scientists led by dr hab. Robert Czajkowski, prof. UG from the Intercollegiate Faculty of Biotechnology UG and MUG and composed of dr Dorota Krzyżanowska, dr Tomasz Maciąg, dr Joanna Siwińska and dr hab. Sylwia Jafra, prof. UG worked on the project 'Reagent for the protection of microorganisms in the lyophilisation process'.
The team developed a new freeze-drying reagent that uses a plant-derived substance, which is many times cheaper, as a substitute for bovine serum albumin. The modification not only significantly reduces the cost of the preparation, but also makes it more humane due to the reagent being devoid of zoonotic components.
'We developed the invention for a specific project need. We wanted to increase the survival rate of the bacterial strains forming the synthetic microbial consortium to protect potato tubers in storage and transport. During the course of the research, it became clear to us that the reagent developed by the team is very versatile and can also be used to protect other microorganisms in a very wide range of applications, such as in medicine or dietetics,' says prof. Robert Czajkowski.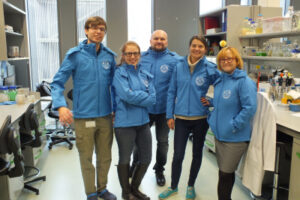 Photo: University of Gdańsk
'When there is a need to effectively lyophilise a large number of bacterial cells to produce a portion of a preparation, a significant reduction in the cost of the cryoprotectant may affect the final assessment of the profitability of commercial production of such products,' says dr Dorota Krzyżanowska. 'With the increasing interest in microorganism-based products in agriculture, this type of innovation could be beneficial,' adds the scientist.
The invention is the result of research conducted at IFB UG and MUG under the NCBiR LIDER VI project (LIDER/450/L-6/14/NCBR/2015) entitled 'Use of synergistic action of lytic bacteriophages and antagonistic bacteria in biological protection of potato (Solanum tuberosum L.) against pectinolytic bacteria of Pectobacterium spp. and Dickeya spp. (PATBIOCON)'.
Congratulations to the team!
Link to website:
https://ug.edu.pl/news/en/6000/next-patent-scientists-intercollegiate-faculty-biotechnology-ug-and-mug